ॐ


Ready to Start Feeling More like Yourself Again?


Welcome to this 3-Day Body-Stretching, Mind-Expanding, Heart-Opening, Self-Love & Spiritual Growth Immersion designed to help you Hit Reset & Feel Good again in your Body, Mind & Soul 


Join us NOW to Hit Reset,
Unwind, Feel Energized,& Find your Flow!
What our Students are Saying:
"The retreat was amazing. It was exactly what I needed. 
I was having a really tough time with some things in my life and she helped me. 
Just to have a space to feel what I needed to feel, and to let go of some things that weren't serving anymore.
I thought it was really great and the fact that I was in my own home,doing it, helped me have some new energy in my own space, to develop a routine of meditation and yoga, and self-reflection that I'm still doing.
I feel like life doesn't get any easier, no matter what. So why not have some tools to just embrace it, just to embrace everything that's happening, Good And Bad. You know? Especially those tough feelings that come up.
You can't always run away. Sometimes you just gotta go through it and just be in it and know that you're not alone.
So Thank you Francie! I recommend everybody does this Retreat".
- Starlet, USA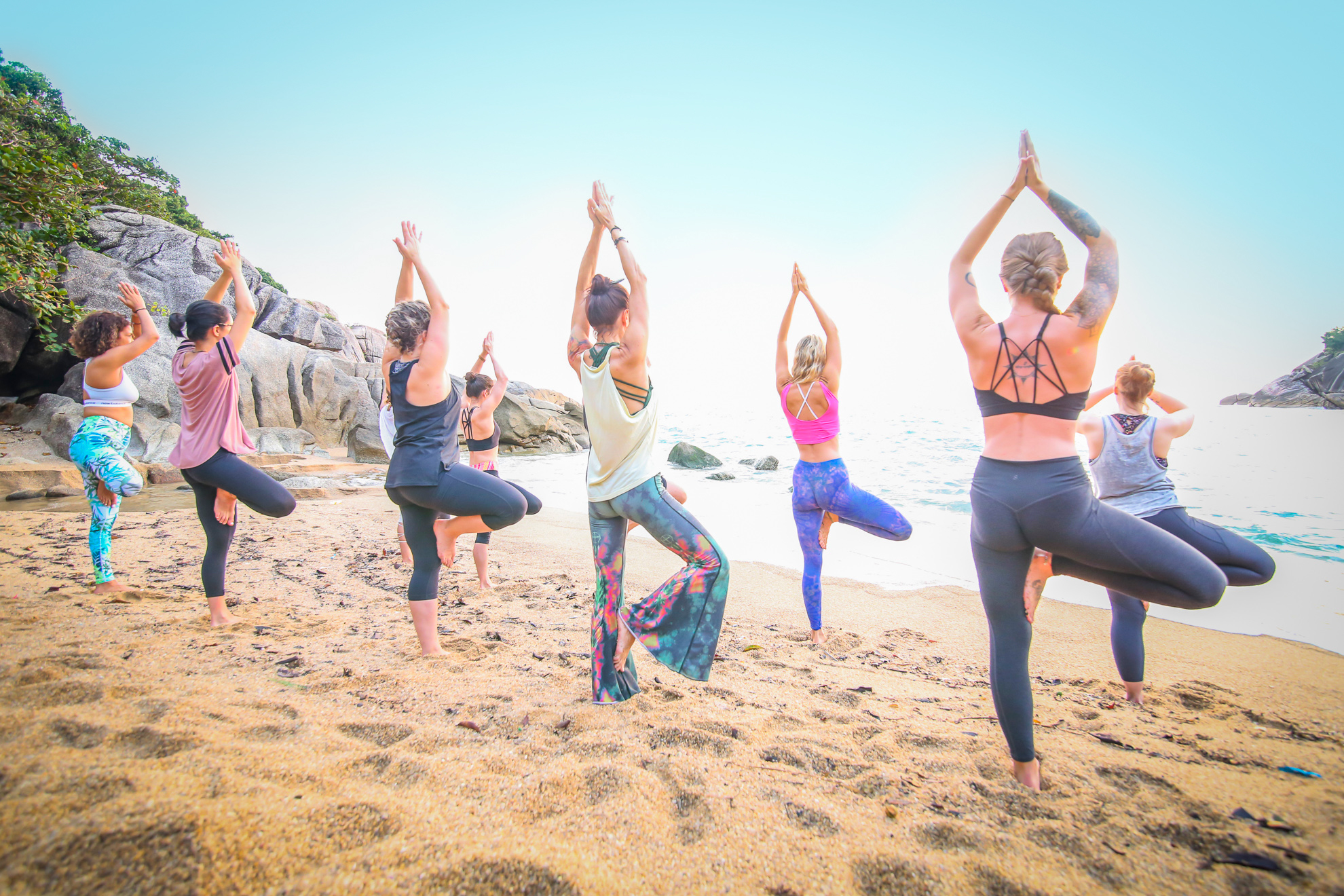 Are you feeling that you're:
Hankering for some "Me-Time"
Wanting to gift yourself or your loved ones Self-Love & Spiritual Growth
Having Self-care and Getting back in the your body is on the to-do list
Feeling it's time to rise up to your potential with support, guidance and community connection
Looking to Kickstart or Re-Inspire your Yoga practice
Wanting effective strategies to cope with all the changes happening in your life and in the worlds at large

Feeling a bit out of whack in your body, mind or heart and ready for more calm and clarity

Ready to welcome positive shifts in your mindset and your life,

Ripe for a healthier and more balanced way of Being
If you answered "Yes" to 3+ of the above, then this retreat is for YOU!
When you Register, You Get:
+ 5+ hours of Professionally-Recorded Videos
Yoga Classes, Mantra Practices, Meditation & Pranayama, & Workshops to help you deepen your practice and understanding of Yoga to help you hit reset and embrace change.
+ Inspiring Workbook, Learning Resources & Downloads
complete with learning concept explorations, journal questions, gratitude workbook and to keep you motivated, supported, on-practice and in-connection
+ 1:1 with Francie
Connect with Francie via Whatsapp for Daily accountability Voice messages, or upgrade your package and Get highly personalised, Clear, Support your individual practice, & integrate your learning into daily life
+ Exclusive Access
to our Love & Inspiration Community & Resource Library
+ TONNES of FREE BONUSes
Including Ultimate Guide for Beginners, Self-Care Toolkit, FREE access to our Lighten-Up Meditation Course, Curated Music Playlists & MORE...


PLUS you get so many AWESOME Course Bonuses valued at more than $300 USD, for FREE!
Bonuses Include:
Bonus #1 - GUEST EXPERT: Simone Mackay
Yoga Nidra Meditation with Simone Mackay
Bonus #2 - GUEST EXPERT: Nolita Ananda
SELF-CARE SELF-LOVE AHIMSA Meditation with Beauty Therapist and Meditation Expert Nolita Ananda
Bonus #3 - Home Practice Toolkit
Dynamic Vinyasa Flow + Yummy Yin Download-ables to help you integrate and inspire you to keep flowing once you've completed the retreat
Bonus #4 - 60-Minute Sacred Sound Kirtan
with Francie & Jonny Rose to help you open your heart and awaken your voice
Bonus #5 - Self-Care 101 Kit
to help you incorporate and cultivate authentic, enduing happiness and fulfillment both On and Off-the-Mat
Bonus #6 - Curated Music Playlists
Yoga & Ecstatic Dance Practice Playlists curated for your listening and flow pleasure
Bonus #7 - Live Class Replays
Presentation on Yogic Concepts & Explorations to unpack the timeless wisdom of this ancient tradition to help you incorporate yoga lifestyle in every facet of your life
Bonus #8 - Recommended Reading for you Retreat
specifically chosen to help you deepen you practice and understanding of Yoga and to keep you learning, growing, inspired, and connected.
Save 15% on our 1:1 Private and Group FLOW Coaching & Mentorship Programs 
to Stay supported and on practice. Valid for 30 days from Purchase.
Total Value of this Retreat 
$̶4̶9̶7̶U̶S̶D̶


You Get to Grab it All today
for just $197 USD
What our Students are Saying: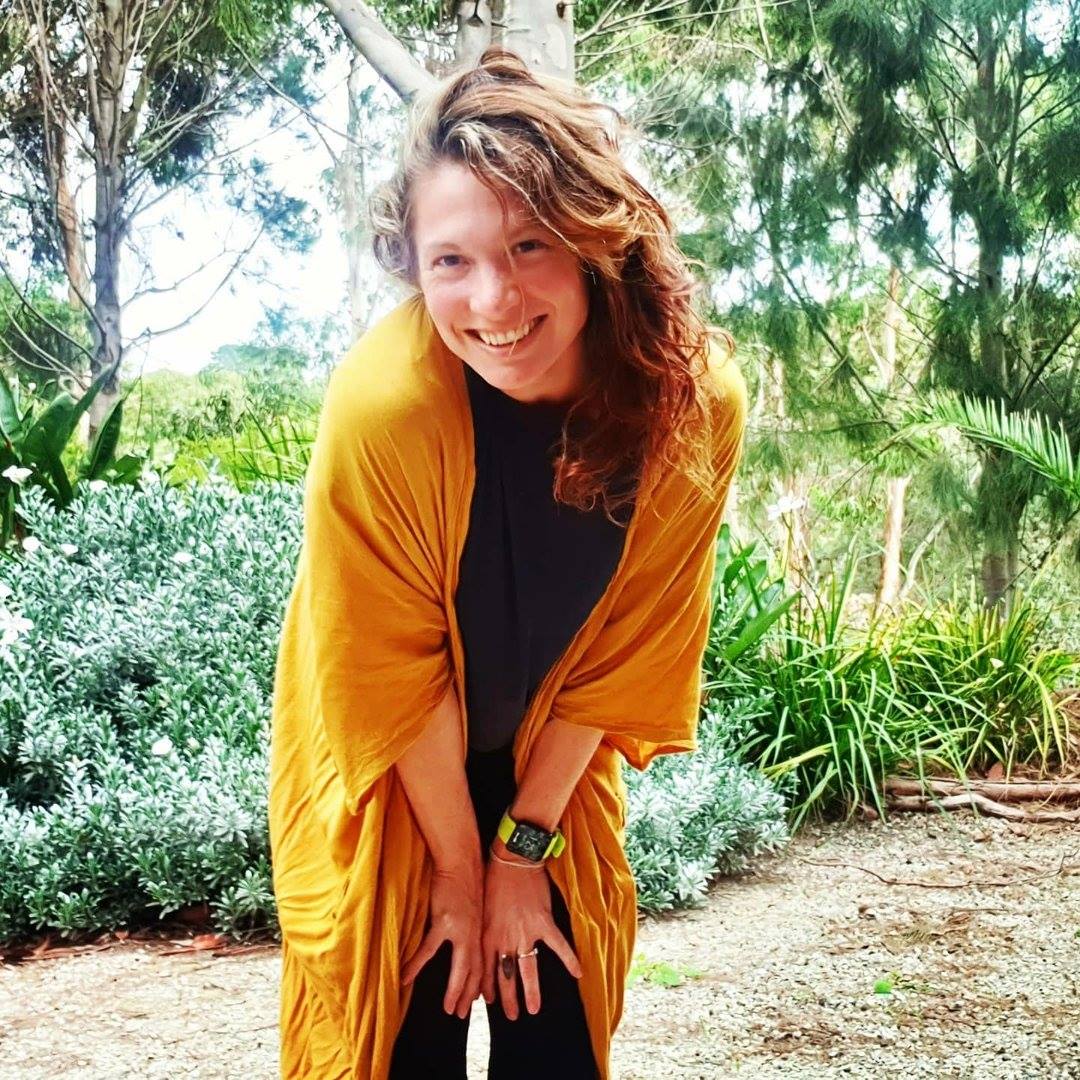 "Truly life transforming"
This was truly a life transforming retreat for me. Which I didn't expect to be honest! I feel so honoured and blessed! Not only did my yoga practice progress more than I could have hoped, my own personal journey through their guided meditation and teachings was immense. I feel reborn, rejuvenated, grateful, blessed and happy. Thank you. I highly recommend this retreat for anyone, regardless of level or what you are looking for. Sometimes it's the things you don't realise you are looking for which surprise and change you the most. Love to you all and see you next time 
 xx
- Jodie Burton, Melbourne, Australia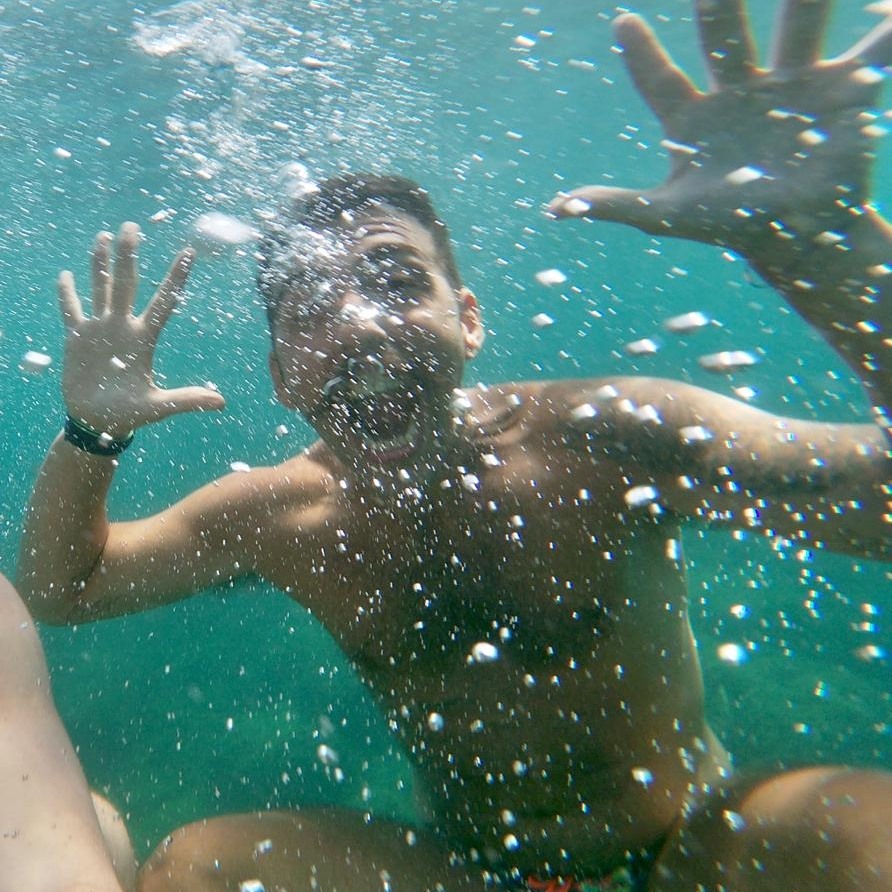 "Best retreat I've ever done"
"This has been the best retreat that I've ever done! Francie is so Good, if you are Yogi or not she can guide you through the practice Of asanas and meditation with love and passion! I will go again for sure!
- Danilo, T. Digital Marketer, Italy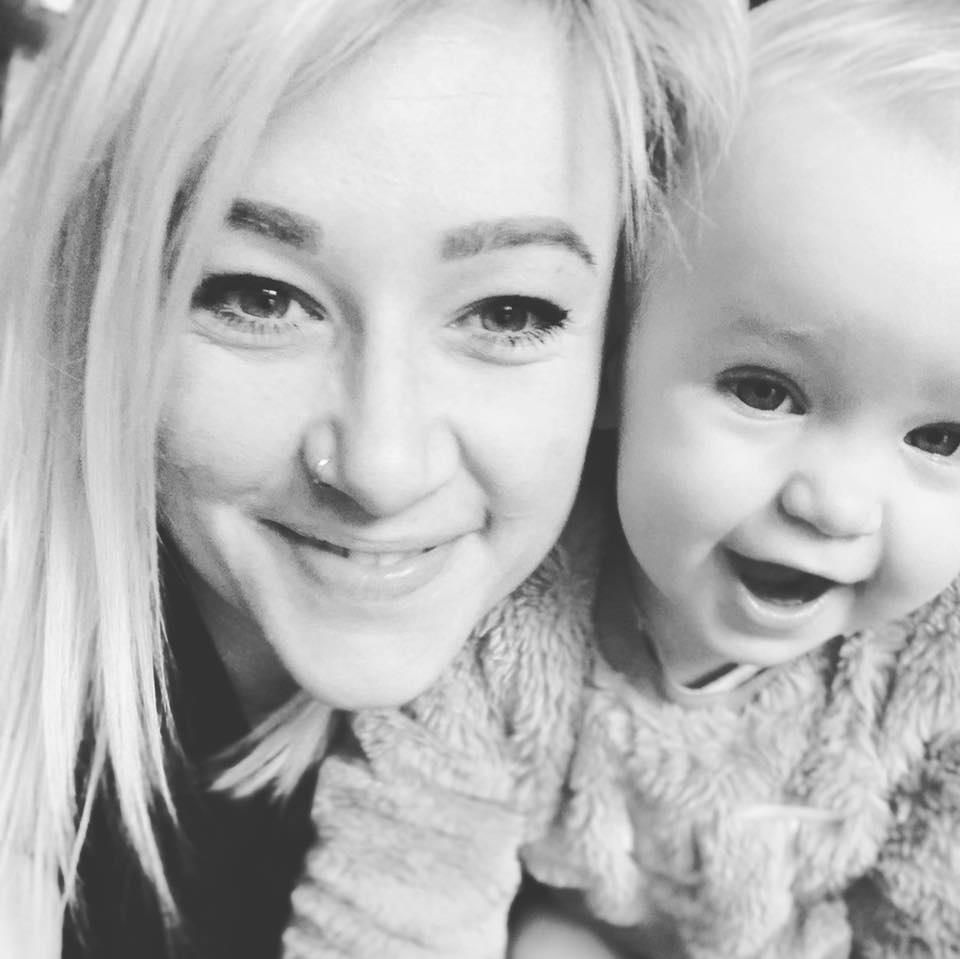 "The BEST. Life changing. Heart opening. Emotionally fulfilling. "
"The BEST. Life changing. Heart opening. Emotionally fulfilling. Love gaining. Life sharing."
- Alley Huntr, Dance Teacher, UK
What You'll Learn:
It's time to create a healthy and conscious spiritual practice that works for you during these unique times we're living in.
*How to use breath and meditation to feel more centred, clear and present
*Empowering Yoga and Self-Care practices to relieve stress and overwhelm, and help you cultivate balance, resilience, strength, flow
*Simple Techniques to develop mastery over your emotions, cultivate inner calm, release trauma, and balance your energy
*Transformational tools to help you navigate transitions, overcome resistance, cultivate resilience and embrace change with more grace and ease
*Strategy for creating a Sacred Space and a Rhythm of Practice that works for You wherever your are
*Mantra & meditation to help raise your vibration and release negative thought patterns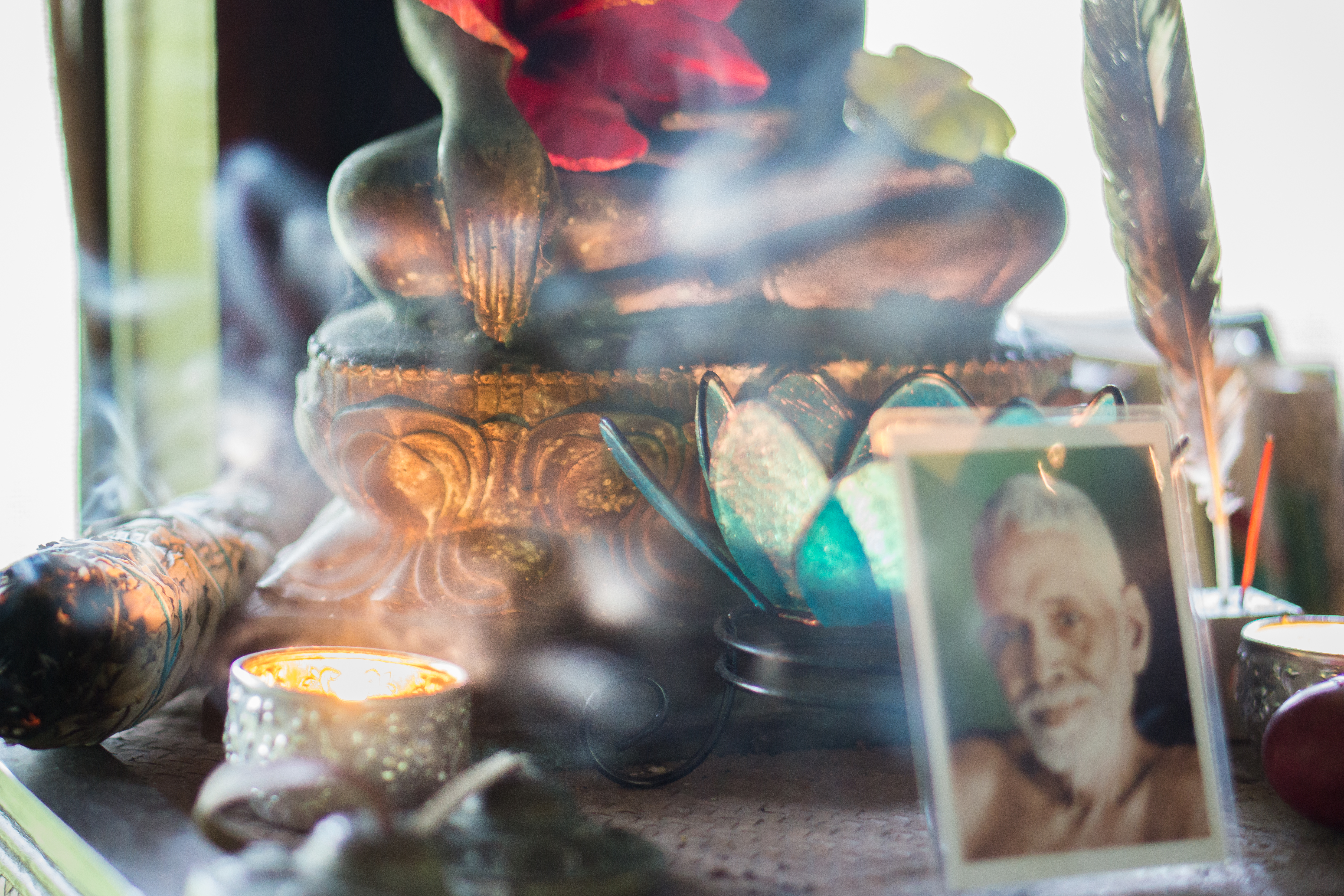 What our Students are Saying...
"I honestly loved how simple and effective the entire course was. I was honestly a bit worried as I'm used to yoga in the traditional sense of being face to face, and was uncertain if we would have that same sense of interaction.
Thankfully I actually found the online format as it gave more flexibility and allowed me to move at my own pace".
I was facing resistance registering at first and was somewhat worried about what to expect and will I commit and show up to the practice everyday. However after showing to the 1st class, everything fell into place and each part of the retreat was beneficial and enjoyable.
I did wish to feel more present and still after this retreat and I'm happy that I do. A beneficial take away for me is that I feel like once you show up, the path shows up.
I loved the variety of topics and concepts that we covered and would like to dive deeper into them.I feel more peaceful and have a lasting feeling of satisfaction now on the end of the 3rd day. I
look forward to the next one.  "[The Virtual Retreat} was effective and I feel great!"
– Salman, Bahrain
ॐ
Hi, I'm Francie, the founder and lead teacher of Pure Flow Yoga School.
Let's face it, this has been a tough year - if not for you directly, then for many of your friends, family and loved ones. Everyone is being effected in some way, shape or form.
We're being called out of comfort zones and invited into the great mystery of life in a whole new way. Some of us have lost our work as we know it, some of us have lost a loved one. Relationships are shifting with new pressures, and what we've expected and counted on up until now - the ground many of us stand on - has been fully shaken. The future can feel sometimes dauntingly uncertain.
Many of us are asking ourselves how to thrive, how to find balance and connection, how to overcome stress, how to BE in relation to this new and unfolding reality.
In challenging times of change such as these, maintaining clarity and a strong personal connection with yourself is one of the most important things that you can do. Without clarity and a strong inner voice, how can you understand and work through all of the changes you are facing? The answer is, you can't. You need to make time and space for yourself so your entire being is in balance and ready to navigate the rough seas ahead.
Pure Flow Yoga School's Self-Paced At-Home Virtual Retreat is designed with love and experience to do exactly that for you: open and hold a space in which you can breathe, stretch, receive stress, release negativity, master your emotions, and implement healthy practices to keep yourself in balance, no matter how crazy or dynamic your surroundings become.
Over the course of three days, with my guidance and in good company, you will enter into a state of transformational self-improvement that will inspire your future strength, joy, and inner peace.
Ready to Say YES?
Let's do this!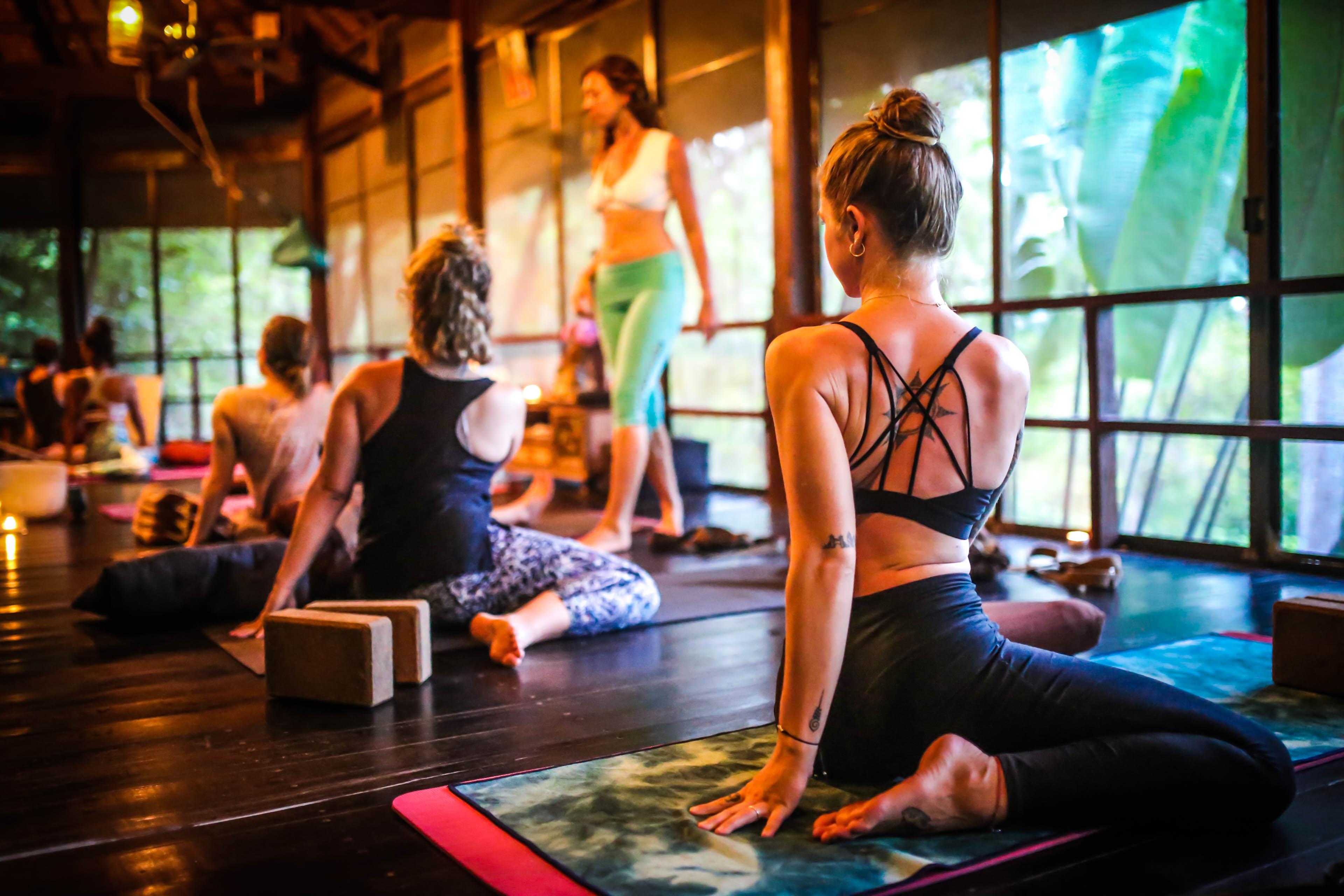 Spirituality & Embodiment
Practices
Meditation & Pranayama Lessons – 3 x 10 mins
Learn how to meditate with simple practices and instruction. After just a few sessions, you'll be able to control and guide your breath to create an inner sense of clarity and peace
Inspiring Yoga Classes – 3 x 60 mins Hatha Slow Flow Dynamic Vinyasa Flow & Self-Love Yin
We teach a variety of styles for you to match a variety of moods and circumstances. Hatha Flow is steady, mid-paced and satisfying. Vinyasa Flow is dynamic, challenging and rewarding. Yin yoga is relaxing, calming, and peaceful. Between these three styles you will come to appreciate yoga for all moods and occasions.
Mantra & Singing Meditation - 3 x Mantra to help you release negative thoughts and raise your vibration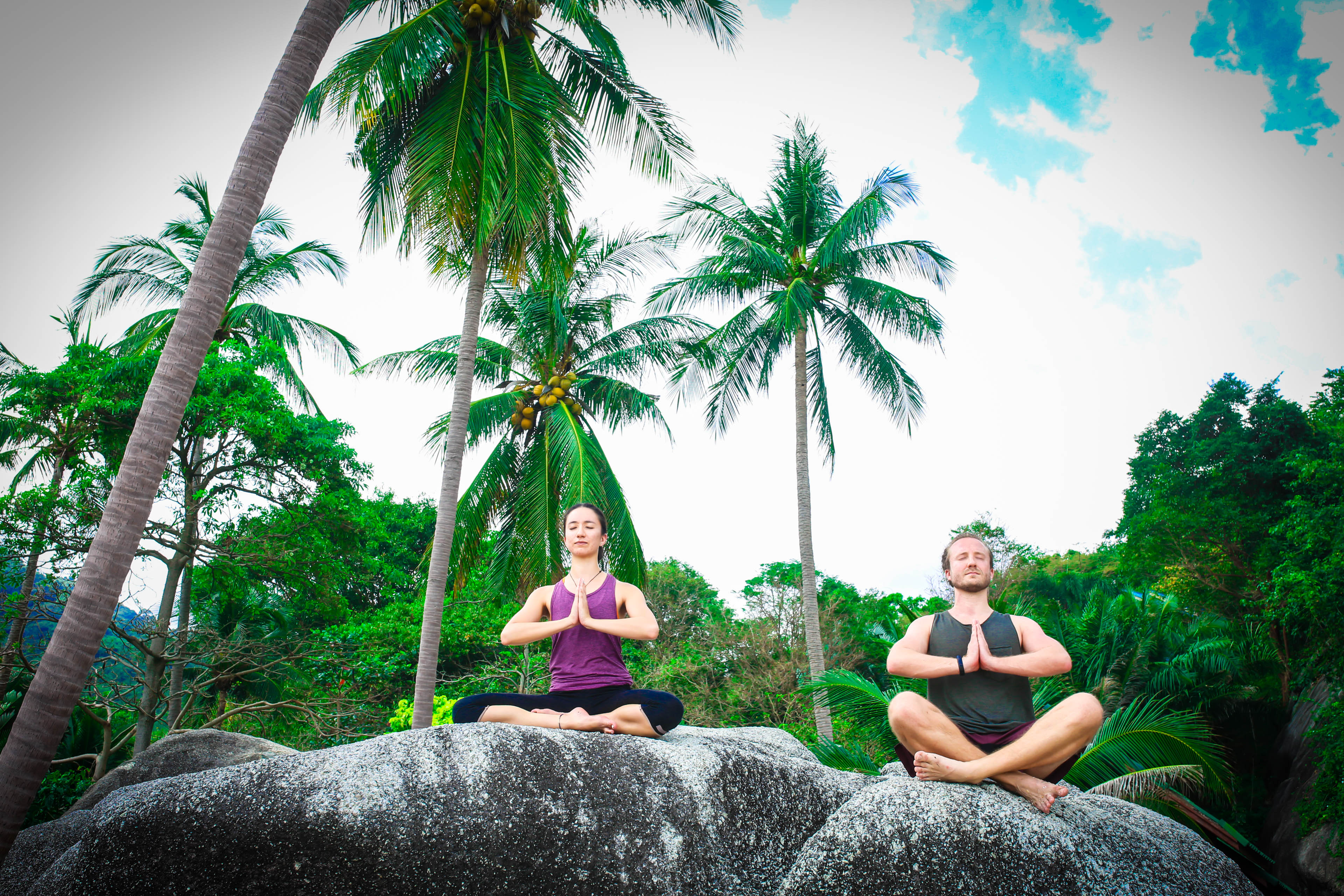 Inspiring & Educational
Learning Resources
60 + Course Workbook + Downloads
Self-Study & Reflection are an integral and important part of knowing yourself - a practice which lives at the heart of Yoga. This workbook is an opportunity to deepen your experience with this retreat, journal, question and explore yourself more deeply.
Self-Care & Home Practice Toolkit
Learning how to integrate our openings, insights, transformation and aha-moments, it's important we learn how to integrate the practices into your everyday life. We have a variety of tools to help support you in this!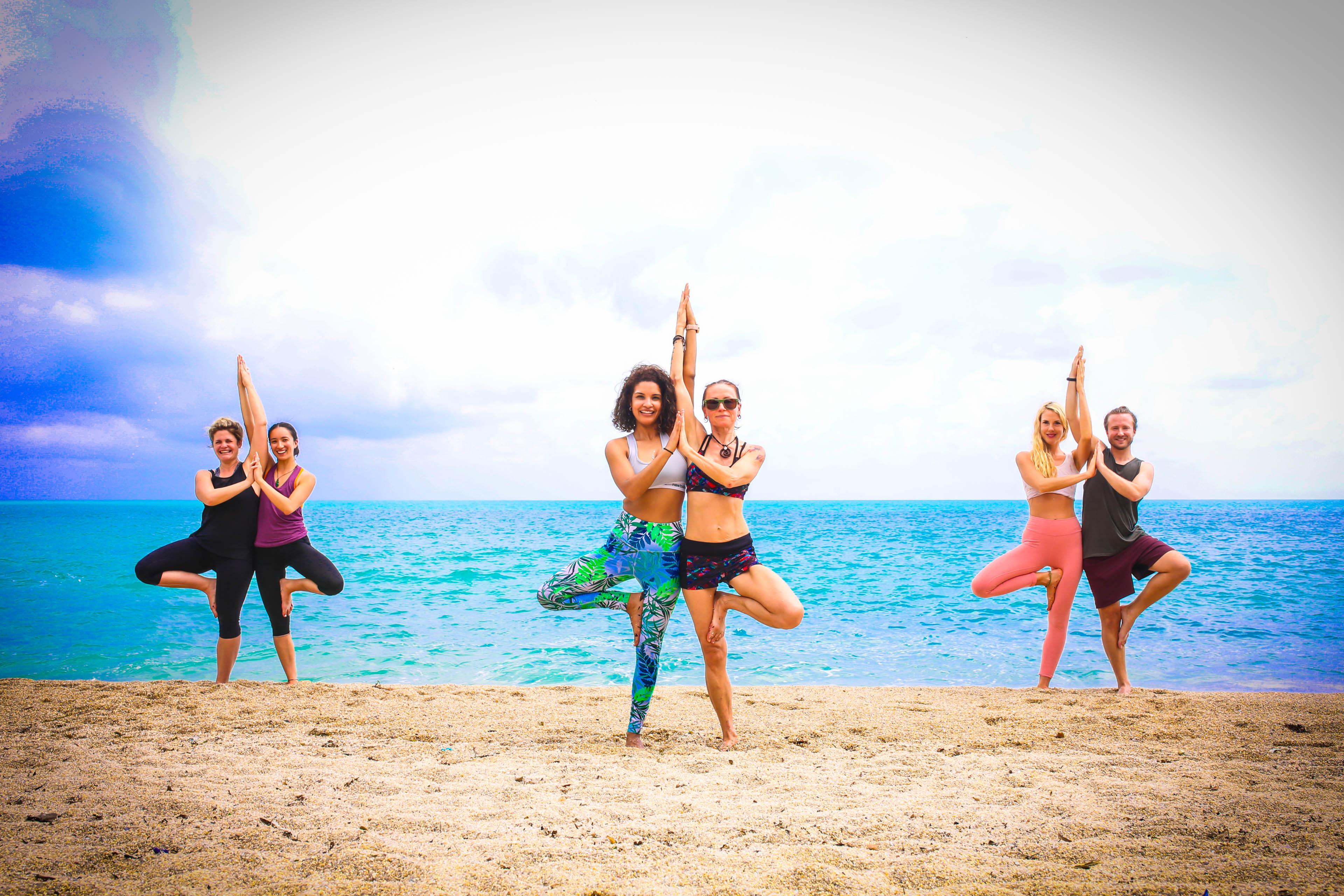 Course
Bonuses
FB Virtual Yoga Community
Feel supported and connected to like-minded Yogis to ask questions, share your experiences, challenges and inspirations
Music
1 x 60 mins a HeartSong Kirtan
As a bonus, this retreat includes a one-hour Kirtan practice for you to sing-along with to help you open your heart and voice.
Music Playlists
Hours and Hours of Vibrational Inspiration for your Vinyasa Flow, Yin Yoga, Ecstatic Dance & More
Recommended Reading
to help you dive-deeper wit Yoga lifestyle and philosophy and to help you complement your journey
+PLUS Special Guest BONUSES...
Somah Nidra
with Simone Mackay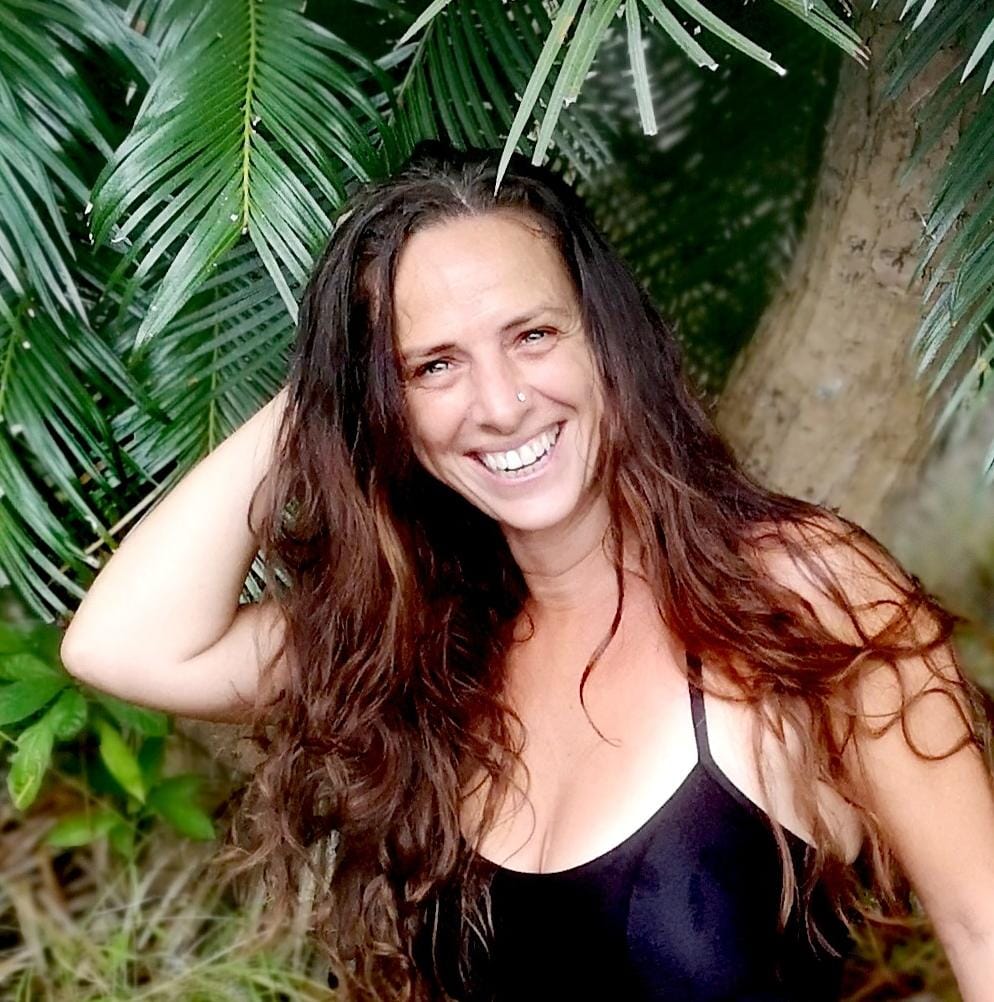 Self-Care & Ahimsa
with Nolita Ananda
Sacred Sounds Kirtan
with Jonny Rose & Francie
ॐ
*Retreat Bonuses*
YOGA 101:

Ultimate Guide for Beginners

WORKBOOK -

Virtual Retreat Journal Workbook

with 60+ Self-Inquiry Prompts

SELF-CARE TOOLKIT

- Includes Journal Prompts, Strategy, Morning Ritual Checklist & Guided Meditation with Nolita Ananda
+
COMMUNITY -

Exclusive Access our WhatsApp Community- Love & Accountability + Karma Buddy

KIRTAN - Sacred Sounds with Francie & Jonny Rose –1 x 60 min
MUSIC - Curated Yoga & Ecstatic Dance Music Playlists
READING - Recommended Retreat Reading List
INTEGRATION - Post-Retreat Support & Integration
+
Enjoy 15% off our 1:1 Private and Group FLOW Coaching Programs to

Stay supported and on practice

Exclusive Discounts with our Yoga Pants Partner "Gypsy Amazon"


Retreat Schedule
For optimal results, we recommend you dedicate 1-3 hours / day for a minimum of 3 consecutive days on the retreat and it's practices
Suggested time breakdown:
Yoga Asana - 60 mins+
Pranayama & Meditation - 10 - 20 mins +
Mantra Singing - 5 - 10 mins +
Journaling & Self-Inquiry - 10-30 mins +
Who is this Retreat for?
This Yoga Retreat is designed for beginner through intermediate Yoga practitioners
It is perfect for Yoga students and teachers with a foundational experience of Yoga who want to HIT RESET, refresh and re-commit to your practice- * Please note - This retreat is designed to be accessible for all-levels but is NOT appropriate for complete new to Yoga.
Evolving beings with humble hearts and beginner's minds who are ready to deepen your practice, and up-level your living embodied wisdom
Curious seekers & dedicated students of life, who are open to inspiration, discipline and community connection, and desire spiritual growth, joy and freedom
Course Requirements:


General level of fitness to participate in dynamic group classes
Willingness to start where you're at and commit to a journey of awakening - which means showing up and doing the work, even when it feels uncomfortable
Recognition that how you show up for yourself and your practices has a direct impact on your life, work, relationships, confidence, self-love and willingness to fully show up
Desire to include Yoga and meditation as part of your spiritual and self-care practice
Benefits include:
We all know that you get our what you put in. I'll be honest with you: the potential benefits for you of this retreat are limitless. It honestly depends on who you are, where you're coming from, and what your heart desires.
Among the many benefits you can expect to feel as a result of our Virtual Embracing Change retreat, expect:


Physical & Inner soul alignment
Enhanced quality of energised physical life and conscious awareness
Increased positivity, contentment and gratitude
Clarity of thought, creativity
Overall improvement in well-being - overall health & wellness
Stress reduction & Improved sleep
Fresh perspective on life & increased energy and vitality
Tools to help your recognise and transform limiting beliefs and harmful behaviour and thought patterns .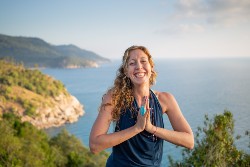 Why Join a Virtual Retreat with Francie?
This unique retreat, guided by acclaimed Pure Flow Yoga Founder Francie Fishman, is an invitation to practice, to learn and grow, and to explore the New Now in a conscious, loving and supported way.
Retreats are simply the best way to truly immerse oneself in Yogic Philosophy and Lifestyle.
Francie has been providing weekly year-round yoga retreats, more than 175+ retreat, around the world for more than 8 years. As a school, we've won awards, we've made dreams come true, and we've provided hundreds of people just like you with blissful, once-in-a-lifetime yoga retreats in paradise.
Now, we are bringing our love and enthusiasm for intimate yoga experiences to YOU.
YACEP Continuing Education Credit
available for this course upon request.
This course is eligible as a YACEP Accredited Course
9 YACEP Continuing Education Credits available to Registered Yoga Teachers (RYT) upon request
Limited Spaces Available. Don't Miss Out. Register Now and Save your Place!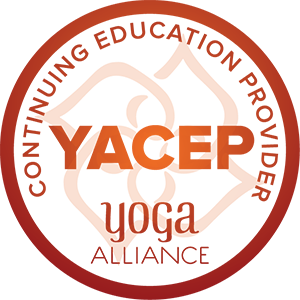 ॐ
Wanna Keep Learning?
Check out our awesome Online Courses!
What do you want to learn next?
At Pure Flow Yoga, our vision is to empower, inspire, connect and educate Yogis across the globe. Our mission is to make these practices accessible and to spread our love of yoga, meditation, music and wellness far and wide. Check out our courses below!
ॐ


Whether you are new to Yoga, or already an experienced practitioner, this experience will deepen your practice and help calm your heart, ease your mind and find your flow.
Knowing how to be happy and at ease, and cultivating the ability to do so, especially in today's ever-changing and seemingly unpredictable world, is possible through dedicated, deliberate, heart-centred intentional practices of opening the mind, body and heart.
One of the most important self-care practices that we can do for ourselves is: Time OUT for Time IN.
Taking time for yourself to let go of distraction, busyness, worry, stress, responsibility, habits that don't serve, social media, addiction.
Ancient traditions and modern mystics and practitioners alike attest to the power of practice, of seeking wisdom and truth, and cultivating mastery of self.
1:1 Flow Coaching
Take your Practice to the Next Level!
Feedback, Accountability and 1:1 Support can help you move through blocks and skyrocket to the next level of your practice, by getting clear and having a personalized strategy to make your dreams come true.