"This was one of the highlights of my entire year! I started to go down a bad path with depression for a minute and my therapist actually suggested getting back into yoga, and sure enough, I stumbled across this challenge not long after so I jumped on the opportunity and this is the best I've felt in so long. Thank you Francie!" - Aubreigh
---
Feel like you need a shift but don't know where to Start?
Need some help re-inspiring your Practice?
Could you use a little support to stay motivated, disciplined, accountable?
*** Kickstart your Home Yoga Practice***
Get Daily Yoga Classes, Gems & Lessons plus the Support of your own Personal Senior-Level Yoga Teacher!
Start Anytime and Go at your Own Pace.
Welcome to the 10 days of Sadhana: The Art of Practice.
In this course, you'll learn how to How to "Create a Home Practice your Love" in 10-days.
So happy to welcome you here!
This course is all about making simple yet significant shifts in your daily life.
Here, You'll find here a blueprint of everything you need to start your own home yoga practice - including video practices to get you started.
This course will inspire, empower and educate you on how to deepen your practice and live your best life!
Does this Sound like You?
"I want to feel like myself again. I want to stop self-sabotaging".
"I just can't seem to make myself do a practice in the morning, but i really want to".
"I need a shift - I just don't know where to start!"
"I want to feel stronger, more clear".
"I need help - I just don't feel aligned. I don't feel like myself".
"I want my energy and joy back".
"I just want to learn and grow and be my best self".
"I want to remember and learn how to flow, let go, and calm the mind

"

"I want to trust my path and have more faith and confidence in myself",
What to Expect:
Over the course of this simple and transformative program, you'll:
Get a Variety of Yoga-Inspired Daily Practices & Learning Experiences
Learn how to create and integrate a simple and disciplined practice of Yoga and Meditation into your daily life
Feel empowered, inspired and supported to create a home yoga practice that you love.
Build confidence and self-love

as you show up and are held accountable

Strengthen your resilience to the challenges of life that arise.
How it works: Our Simple Secret Sauce
1:1 Sessions - Personal Q & A / Coaching Sessions (2 x 30 mins)
Daily Yoga Lesson - Inspiration & Education
Daily Practice - Pre-Recorded Yoga & Meditation - about 20 minutes / day
Daily Gratitude & Accountability
Love & Inspirations - Music Playlists, Book Recommendations, Blog posts to take you deeper
Exclusive Access to our "Love & Accountability" Community - Connection, Inspiration & Support
Yoga is a pathway to freedom and a powerful tool for self-discovery. A disciplined practice of yoga has the transformational benefits of deepening our connection to the body, mind and spirit, supporting us to live and love long, vibrant, happy, healthy and fulfilling lives.
This All-Level Course offers daily practices, lessons, reflections, videos, meditations, playlists and curated Inspirations to help you align to your highest self to cultivate lasting change and more effortless access to the timeless and blissful state of flow.
The practices we share are educational, engaging and appropriate for all levels, and are designed to help strengthen and deepen connections between nature, body, heart & mind.
What you'll Learn:
In this 10-day challenge and course, you'll learn:

The basics of yoga's 4 main practices: Asana, Pranayama, Chanting, Meditation.
How to create a Sacred Space for Practice
How to identify and plan to meet the challenges that will arise
Sun Salutations & Creating Template for Practice
Art of connecting breath & movement
Alignment tips to help you feel more confident in your poses
Sequencing Strategies to help you create your unique and balanced daily flow.
Lifestyle tips for a living a balanced Yogi life
Self-Practice basics - How to balance effort and surrender
Mantra for Inner peace & compassions
How to integrate expansions and learnings
*Course Bonuses*
"Ultimate Guide to Creating a Home Practice you Love" - Digital downloads complete with two full length dynamic and Yin Home Practice Flows that can help you get started.
Access to our Exclusive FB Community Group
10% off all of our Online Courses & Coaching Packages
Would you like to step into the fullness and beauty of your life and visions, refine your personal practice, and discover how to stay balance and happy in your everyday life?
If YES, then this course is for you!
---
"Thanks so much for the 10 day challenge! It was awesome and it grounded me so much and reminded me of what I was missing". - Claudia, New Zealand

"I find your practices the most enjoyable and fulfilling; you have really helped me discover the joys and benefits of yoga, across all dimensions. It's become an intrinsic part of my life, and something I am thankful for every day".
- Omar, UK
"My biggest growth/learning...The power of community. This sense of community helped to remind me of how important it is to include yourself and not feel that you don't have something to offer. Just knowing there are a group of you together doing this challenge has immense power. I felt included even though i didn't even fully participate. And I think this was very much part of your personal approach to the messages". - Robyn, Australia
"Participating in the challenge, even from afar, has reminded me every day to honour myself and create a bit of 'me time' .. that simple fact has been amazing, I have got back into meditation and it had been a long time... I also have been doing asana practice which actually reminded me that when I do it most days, my back pain pretty much disappears. I have also made a point of getting into nature. 3 simple things that make such a difference". - May, UK

Your Instructor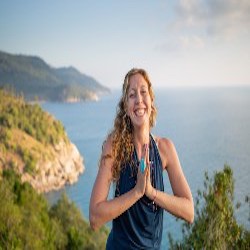 E-RYT 500 Yoga Alliance | Post-Grad Dip. Education, Queensland University of Technology | BA Psychology / Philosophy, McGill University
Francie is the inspired founder of the award-winning Pure Flow Yoga Thailand School, voted one of the top 8 Retreats worldwide by the Guardian 2018. She is a passionate and free-spirited International Yoga Teacher, sacred sounds musician, entrepreneur, podcaster, writer, hula hooper, community activator, joy-spreader and gypsy soul.
As a devoted practitioner and life-long student, Francie has studied thousands of hours with master teachers worldwide, and has curated and led more than 200 + Yoga Retreats, teacher trainings, workshops and programs with over 600+ students from all walks of life.
She has been a featured presenter at the acclaimed Bali Spirit Festival for the past 6 years, as well as Island Elements in Australia, Oregon Eclipse, Symbiosis Gathering. In addition to presenting, Francie has also been involved as a festival producer with True:Nature Experience, Air Festival, Sacred Circularities, and other global festivals, retreats, trainings and gatherings.
Francie's signature style embraces the most intuitive, creative, graceful and flowing movements that the practice has to offer, while tapping into the nurturing and powerful insights of the ancient tradition. She offers all-levels, inspiring and playful classes in Hatha Flow, Vinyasa, and Yin styles and retreats that weave in-depth instructions on alignment, sequencing, and awareness of the breath with her love of flow, embodiment, storytelling, music, and dance with her knowledge of mindfulness meditation, pranayama, energy anatomy, and Yogic philosophy and wisdom.
Francie is known for her enthusiasm, joy, and dedication to helping to uplift inspire and empower people to live embodied, joyful, aligned, connected, playful, and awakened lives, and is committed to being in service and to living an exceptional life of community, co-creation, celebration and flow.
For more info & inspirations visit:
Course Curriculum
Welcome! Getting Ready for the Challenge
Available in days
days after you enroll
Your Daily Challenge Resources
Available in days
days after you enroll
Day 1 - The Path of Practice
Available in days
days after you enroll
Frequently Asked Questions
When does the course start and finish?
The challenge itself begins as soon you purchase the course and lasts 10 consecutive days. You'll still have ongoing access to the course and get to own it forever so that you can revisit the lessons and practices at your will :)!
Will this Challenge work for me?
The old adage - "You get out of this what you put it." - is as true as ever for this experience This challenge is designed to help you make small but significant changes to your regular daily routines. You don't have to practice yoga every day, but if you decide to practice three times a week, you are going to need to make changes for that to happen. This course contains the tools, techniques and support to help you to make those changes – but you need to be willing and committed to do the work. If you are ready to show up fully, this course will be an excellent support for you!
You are invited to join us in the Pure Flow Yoga Experience.
Pure Flow Yoga offers a wide range of exciting opportunities to practice, learn and growth for total beginners and seasoned practitioners alike. Join us for 1:1: Coaching Support, Online Courses and Group Live Experience & Virtual Retreats.
Come and experience the transformational Magic of Yoga.